SilverCrest Properties SilverCare
Personalized Care, Expertly Delivered
SilverCare provides on-site assisted living and home care services at SilverCrest properties. Our focus is on creating individualized care plans designed to maximize independence and quality of life for the residents we serve.
SilverCrest founded SilverCare in 2002 after recognizing the need for an expert, on-site care team that shared our same vision and value systems. SilverCare is licensed by the Minnesota Dept. of Health having a comprehensive license and will provide assisted living services under the new AL licenses.
Our experienced team of highly trained, compassionate nurses and resident care assistants operate with an elevated sense of urgency and have a mission of putting residents first. They are supported by a strong leadership team that provides extensive training and feedback to ensure our residents are happy and healthy and our staff feels engaged and valued.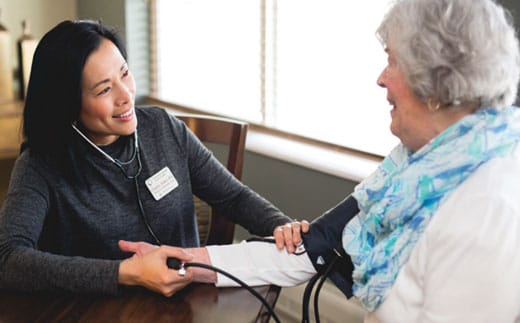 Care Services Include (but are not limited to):
Personal care: bathing, dressing, grooming, toileting

Medication management and administration

Emergency pendant response 24/7/365

Health checks: Blood pressure, glucose, vital signs

Internal Escorts to meals and activities

Housekeeping, laundry, linen changes

One and two person lifts and transfers

Companionship and socialization
All Care Plans Include:
Companionship and socialization

On-call nursing oversite 24/7/365
With a current team of over 160 caregivers including, Corporate Clinical Director, Registered Nurses, Licensed Practical Nurses and Resident Assistants, we deliver engaged, quality care around-the-clock, 365 days a year.
A Full Spectrum Of Care Options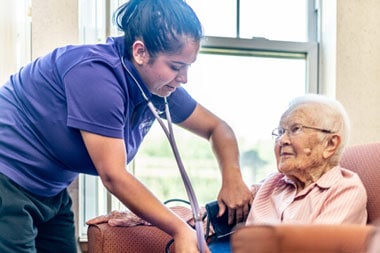 Assisted Living
A full menu of personalized services is available if support with either daily tasks or care is needed. Dressing, housekeeping, bathing assistance, medication reminders and other services are available. Our emergency call system ensures access to staff 24 hours a day. Meals, laundry services and other amenities are also available.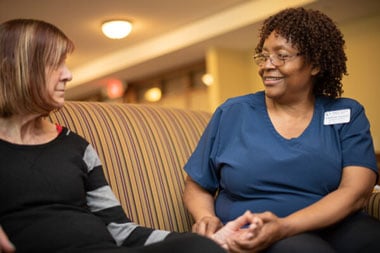 Enhanced Assisted Living
SilverCare's enhanced assisted living services provide an additional level of attention and care for those with more complicated conditions. The staff to resident ratio is higher and the type of care is expanded to include lift/transfer assistance, wound care and other specialized services.
Reflections Dementia Care
Our SilverCare team is specially trained to assist people living with memory loss and customizes each resident's care plan to match their needs. In addition to assisting with dressing, bathing, meal assistance and other activities of daily living, our residents also have the benefit of a full-time Reflections Director to act as a liaison between our residents, their families, and our on-site care teams.
Respite Care
Our respite program provides fully furnished studios/apartments for those who need care and personal assistance on a short-term basis. Whether recovering from a hospital procedure or providing coverage for a caregiver, our SilverCare team works with your doctors and care team to ensure all orders are properly followed. Physical therapy, occupational therapy and speech therapy are also available on-site during respite stays.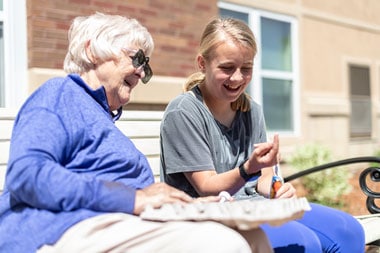 Additional Support Services
SilverCare and SilverCrest are proud to partner with leading physical therapy companies, physician partner agencies, podiatrists and hospice providers to allow you access to the highest quality care in the comfort of your own home.