Property Management Services
SilverCrest Properties Management Services
From development and construction to marketing and management, SilverCrest Properties, LLC provides a full array of consulting services for your senior living property. Our mission is to assist both new and existing for-profit and non-profit companies to maximize their potential. We provide construction oversight as your development partner/consultant to ensure the highest level of craftsmanship and attention to detail. From selection of the contractor through the bid and contract negotiation, all aspects of the construction phase are managed.
Our foremost objective is to identify, understand, and analyze your unique business challenges and provide you with the best solutions. We then develop practical, lasting, and bottom-line oriented programs to promote your project's long term success.
Our unique blend of industry experience, successes, and professional capabilities combined with our management systems, makes us a valuable extension of your leadership team. Whether it be re-designing or renovating your property for optimal occupancy, or re-aligning services and costs, SilverCrest Properties has the expertise to help you enhance your operational performance to reach your stated objectives.
Development
SilverCrest Properties, LLC offers a wide variety of development services to clients from site selection and feasibility analysis, through design, construction and occupancy. Development services are tailored to meet the individual needs of the client whether it is a new community or a capital improvement to an existing community.
SilverCrest Properties, LLC provides the following services:
Market feasibility studies

Market feasibility studies

Financial proforma preparation

Interior design consulting

Dining services operations

Environmental impact review
"SilverCrest Properties develops and manages superior communities that meet the sophisticated lifestyle demands of today's seniors. SilverCrest plans and provides environments where residents can celebrate independence and live their lives to the fullest. Our firm considers it a great honor to be SilverCrest's construction partner."
– Erik Weis, President and COOWeis Builders, Inc. Minneapolis, MN
"The J. A. Wedum Foundation and SilverCrest Properties have established a partnership built on trust, hard work, and a shared vision to offer excellence in senior housing. It has been exciting to see our two organizations unite to have enormous impact on the communities we serve."
– Jay Portz, President J.A. Wedum Foundation, Owner of Shorewood Senior Campus and Esplanade Gardens Senior Campus
Marketing
SilverCrest Properties provides sales and marketing support and strategic planning to existing and new senior living communities. We recognize that every market presents unique challenges that require creative, customized initiatives. Our advantage is that regardless of the size and scope of your project, from pre-development marketing to stabilization and beyond, we have the skill, talent and knowledge to achieve results.
Market research and focus groups

Brand development and creatives

Marketing budget planning

Website design & maintenance

Advertising and media placement

Resident retention programs

Lead and referral base management

On-site monthly marketing meetings
Management
For more than 30 years, SilverCrest Properties has led the industry in the successful management of communities that offer a range of senior housing options – independent living, assisted living, and memory care. Our combination of senior living experience, state-of-the-art management systems, and professional capabilities has built our reputation for delivering quality service to our residents. We are bottom line oriented, assuring projected returns to our individual, institutional, and foundation partners.
SilverCrest Properties sets itself apart through distinguished services to our residents, families and staff. This is achieved through our service delivery model called SilverAdvantage™. The fully trained SilverCrest management team provides each property with resident services, planned activities, elegant dining, housekeeping and transportation, all within the impeccable setting of a SilverCrest community.
SilverCrest Properties, LLC provides the following management support:
Operations review and audit
Dining services operations

Quality assurance program
Staff and resident retention programs
Dining Services
SilverCrest Dining Services, LLC. delivers a fine dining experience to its residents and guests every day. Chef prepared recipes made form scratch, thoughtful plating to enhance appeal, served by an attentive staff results in satisfied residents and our guests.
SilverCrest Dining Services provides the following services:
Commercial kitchen design

Creation of dining areas to meet resident needs; Independent Living, Assisted Living, and Memory Care

Compliance with federal and local laws

Maintaining proper licensing and permits

Budget development and performance tracking

Selection and training of staff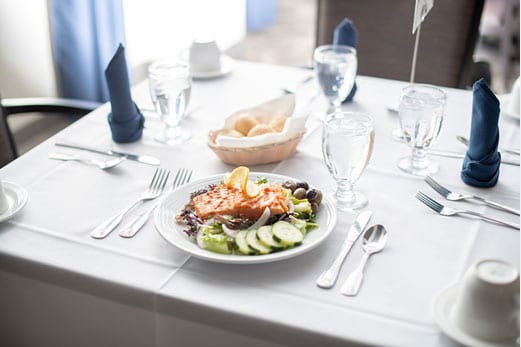 Inquire Now!
To inquire about SilverCrest Properties Management Services:
Fill out the form below and we'll be in touch with you at our earliest convenience.
"*" indicates required fields