Healthy Lifestyle
SilverCrest Signature Dining
SilverCrest Signature Dining Services delivers an inspiring dining experience to its residents and guests every day. Chef-prepared recipes made from scratch, thoughtful plating to enhance appeal, served by an attentive staff results in satisfied residents and guests.
Chef-Prepared
Our talented Chefs come from a variety of different backgrounds in work and life experiences which help make our meals stand a step above the rest.
Choices in Food
The benefit of living in a SilverCrest community, is that you have the choice of enrolling in a variety of meal plans, enjoying our dining a la carte or additional dining options such as the Bistro in select communities with homemade soups, salads, sandwiches and more!
The Signature Dining Experience
The SilverCrest Signature Dining Experience is the cherry-on-top of the delicious chef-prepared meals with beautifully set tables, a warm and inviting atmosphere and knowledgeable friendly wait staff making you feel at home with our restaurant-style dining.
Resident-Focused Menus
Our menus at SilverCrest are crafted uniquely based off the suggestions, needs, and wants from the residents in our community. At each community, we host monthly Food Forums with our Dining Services Director so the residents can share their thoughts.
Dietary Considerations
For residents with specific dietary needs, our team can offer specialized menus with texture-modified diets. Our meals are also low-sodium, made often with whole grains and fresh heart-healthy ingredients to ensure individualized nutrition needs are kept.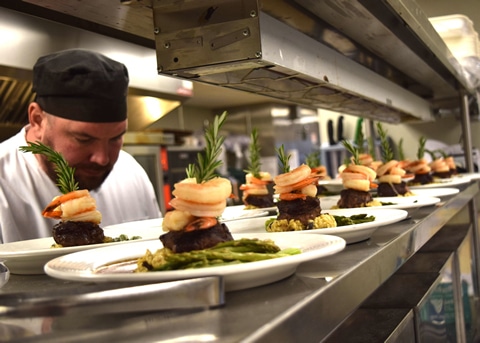 Gallery
Signature Dining Photo Album